Invest It Forward
SIFMA and the SIFMA Foundation invite you to Invest It Forward™. Invest It Forward is an industry-wide financial education and capital markets literacy campaign convening hundreds of financial firms that are committed to giving young Americans a solid understanding of the capital markets system and the invaluable tools to achieve their dreams.
Here's How to Invest It Forward and Make a Difference!
Invest It Forward™ is designed to connect teachers and classrooms with financial industry professionals and firms. Want to be part of Invest It Forward? Get started today! It's easy.

If you are a financial industry professional or a financial services firm wanting to volunteer, and to discover specific ways you can bring your passion and expertise into classrooms and youth-serving nonprofits, learn more here.

If you are a teacher or after-school provider wanting to bring the real world of finance and capital markets to your students, learn more here.
Here's Why You Should Invest It Forward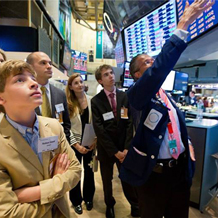 Invest It Forward™ is designed to help young people understand how to harness the capital markets for their own benefit – whether starting a new business or saving and investing for a secure and prosperous financial future – and realize their dreams.  Complementing the SIFMA Foundation's critically acclaimed national Stock Market Game™ program, which has reached 15 million students, volunteers from industry firms will personally offer exciting, multimedia in-school and afterschool lessons to help our nation's youth better prepare for their own futures as financially capable and engaged citizens.
OBJECTIVE #1
To help young people connect to the opportunities inherent in the capital markets through their understanding of how the markets spur economic growth and the prosperity of people across America.
OBJECTIVE #2
To connect industry/ SIFMA member firms and their employees with classrooms and afterschool programs nationwide, arming them with brand-new interactive multimedia lessons for use in promoting capital markets literacy and financial capability.
OBJECTIVE #3
To work with financial education leaders across the sectors to create online, interactive lessons for volunteers to present at four levels – elementary, middle, high school, college – on topics that enhance existing financial education materials.

Contact Invest it Forward™
For further information on how your firm can Invest It Forward™
To join the Back-to-School Invest It Forward™ Campaign in September 2014
No time to volunteer?  Make your donation to youth financial education today.
CONTACT US at: IIF@sifma.org. We look forward to hearing from you.